Welcome on the new webpage of Stuveco
Official Student Council of the Faculty of Economics en Business Administration
Stuveco is the student council of the Faculty of Economics and Business Administration.
Our student representatives are member of various councils and committees within our Faculty.
These workgroups give students the opportunity to engage themselves, together with professors, assistants and other academic staff, to make our faculty a home for everyone. We take care of your concerns and try to deal with your problems. We strive for excellent teaching, righteous exams, acceptable prices of the book sales, enough facilities for students etc.
How does Stuveco work?
Our Board of Directors consists of 6 enthusiastic contributors.

- President : Laurent Duthois
- Vice-President : Axelle Vandenberghe
- Treasurer: Elias D'haeze
- Communication: Emmanuel Beyer
- Education: Dries Van Dort
- ICT: Mariska Van de Sompele


Discover how Stuveco works
Discover how Stuveco works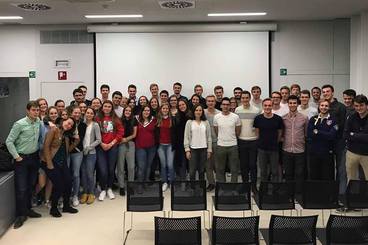 General Meetings
Interested in defending the interest of students at our Faculty? As member of Stuveco you are able to discuss problems from your environment, yourself or others. We regularly have discussions about the stance of FEB-students on controversial points such as Broadcasting the lessons, a new Academic calendar...

You are very welcome to pass by on one of our general meetings to see how we work.
You can find the calendar below.
History and Realizations
Our Faculty has a long history of strong student engagement
History
2020-2021
Voorzitter: Maxence Marnette
Ondervoorzitter: Laura Aernoudt
Penningmeester: An Bouckaert
Secretaris & Communicatie: Laurent Duthois
Onderwijs: Niels Clymans
ICT: /
2019-2020
Voorzitter: Max Thomas
Ondervoorzitter: Laura Lambrecht
Penningmeester: Maxime Mulliez
Secretaris & Communicatie: Gevorg Shahinyan
Onderwijs: Louise Dillen
ICT: Vedran Deckmyn
2018-2019
Voorzitter : Florian Baetens
Ondervoorzitter : Max Thomas
Penningmeester : Ewoud Cools
Secretaris & Communicatie : Wannes van Overstraeten
Onderwijs : Pieter Delie
ICT : Mattias Van Look
2017-2018
Voorzitter : Blerta Beka
Ondervoorzitter : Nicolas Vander Eecken
Penningmeester : Louis Boval
Secretaris & Communicatie : Ana Paula Mendes
Onderwijs : Emiel Remmerie
ICT : Hagar Rebahi
2016-2017
Voorzitter : Jasper Moreels
Ondervoorzitter : Blerta Beka
Penningmeester : Michiel Van Damme
Secretaris & Communicatie : Antony Wulteput
Onderwijs : Gauthier Desmet
2015-2016
Voorzitter : Louise Stubbe
Ondervoorzitter : Joost Van Elsuwé
Penningmeester : Jasper Moreels
Secretaris & Communicatie : Blerta Beka
2014-2015
Voorzitter : Andreas De Witte
Ondervoorzitter : Allison Schouteten
Penningmeester : Sander Lietaert
Secretaris & Communicatie : Blerta Beka
2013-2014
Voorzitter : Nathalie Gys
Ondervoorzitter Tweekerken : Jelle Heyvaert
Ondervoorzitter Mercator : Andreas De Witte
Penningmeester : Andreas D'hoine
Secretaris : Caroline Meugens
Communicatie : Jason Cornette-Dixon
2012-2013
Voorzitter : Pieter Dhertoge
Ondervoorzitter : Ruben Tirions
Penningmeester : Andreas D'Hoine
Communicatie : Sander Lietaert
2012-2013 Factor
Voorzitter : Matthias Vermès
Ondervoorzitter : Jens Lievens
Penningmeester & Communicatie : Andreas De Witte
Secretaris : Paulin Van Biesen
Voorzitter : Willem Devriendt
Ondervoorzitter : Bregt Ooms
Penningmeester : Davy Degeetere
Communicatie : Pieter Dhertoge
2010-2011
Voorzitter : Evelyn De Blieck
Ondervoorzitter : Willem Devriendt
Penningmeester : Bregt Ooms
2009-2010 Cel Didactiek
Voorzitter : Ewoud Quaghebeur
Ondervoorzitter : Willem Devriendt
Realizations
Discordgroups for all first bachelor's at the faculty

Update and upgrade of the Studelen platform, where students can share notes and summaries
Aanleg extra fietsenstalling campus mercator (2014-2015)
gratis watervoorzieningen campus 2 kerken
integratie van de studenten Handelswetenschappen en Bestuurskunde en publiekmanagement in de FEB
tijdelijke versoepeling GIT-reglement en volgtijdelijkheid (2011-2012)
uitbreiding keuzevakkenlijsten
de Homo Economicus: handig boekje met examentips en voorbeeldexamenvragen van elk vak (jaarlijkse uitgifte)
vast examenrooster
invloeden in de Faculteitsraad, Opleidingscommissies, Kwaliteitscel Onderwijs
reeds 3 edities FEB's Got Talent
3e plaats Wijste Prof 2012 (prof. Jan Verhoeye)
overwinning Wijste Prof 2011 (prof. Mirjam Knockaert)
2e plaats Wijste Prof 2010 (prof. Marc De Clercq)
2e plaats Wijste Prof 2009 (prof. Freddy Heylen)
kunstfoto's in de Hoveniersberg
Best Teaching Awards
Useful links
Find who or what you are looking for here
Looking for the list of Year responsibles? Do you want more information about the different committees within our Faculty? Who forms the Board of Directors this year? Do you have a question?

Press the button below to discover.

Contact us
Contact us
Calendar Stuveco
What's on the program this year?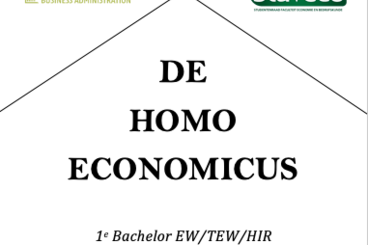 The Homo Economicus
The Homo Economicus is - besides the hypothesis that humans are agents who are consistently rational and narrowly self-interested, and who usually pursue their subjectively-defined ends optimally - a bundle full op typical exam questions of previous years. These questions serve to help FEB-students in preparing their exams and to give them an idea of the difficulty of the exam and how the exam will look like.

The Homo Economicus is constructed from the input of the students themselves. After each exam there will be posted a link to a Google Doc into the Facebook groups of the fields of study (e.g. in the group First Master Business Engineering) One can post all remembered questions into this document or can add to/adjust other's contributions. More information on Homo Economicus can be found on the website of Studelen (see below)
Studelen
Loosely translated : Stu-sharing
Who is actually fond of doing unnecessary work? A lot of students try to study efficient by making summaries of their courses. Is it still efficient when students make their own summaries year after year? Can't you help the next generation? With a little bit of solidarity you might get your fellow student through a course he has got a lot of problems with. Who knows you might be running out of time yourself one day!
It can be useful to double check that you did not miss anything in your own summary.
But most of all, are you looking for good karma?

Studelen is the name of the website where students of the Faculty of Economics and Business Administration of the University of Ghent can upload, view, download, rate summaries and exam questions. Unlike existing tools, our site is completely free and does not pay contributors for their uploads.
But there might still be something in there for you as the best rated summaries might get a reward at the end of the exam period!

Maybe important to add that it is also possible to upload under no name, in order to stay anonymous.

Bring me to the Studelen website
Bring me to the Studelen website